Audio marketing made easy
Create and distribute audio content across podcast, social, video, and digital content in realtime
We enable you to reach & engage your customers wherever & whenever they consume audio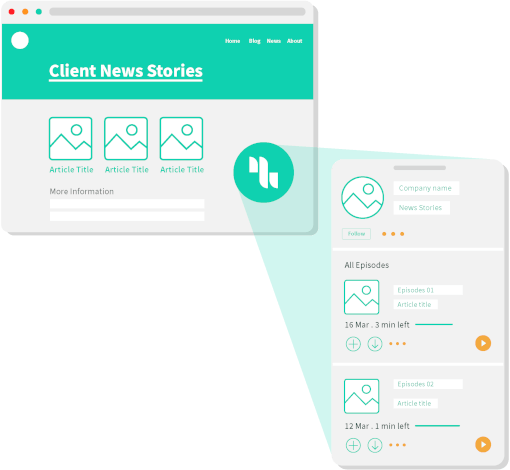 Trusted by global brands
Create and distribute audio content in minutes via these four easy steps
Step One - Find
Suitable content for your audio communications
Our platform's Artificial Intelligence scans your website content to recommend the most suitable content to convert to audio so that you can engage your customers wherever and whenever they listen to audio. Clients can also upload audio interviews and recorded content for distribution as a branded podcast.
Try for Free
Step Two - Convert
Transform your selected content into audio
Your selected content is converted into audio content using our exclusive text to speech technology. Our natural sounding generative AI voices are ready to be shared with your existing and new audiences.
Step Three - Distribute
Distribute audio content as a podcast and across social platforms
Our UI enables you to review and automatically distribute your audio content as a branded podcast to iTunes, Spotify, Google Play and Amazon. Embed audio content on your website via our onsite audio player and share audio content across social and video platforms.
Step Four - Enrich
Our audio player sits on your website so visitors can listen to content
Deploy our audio widget player on your website so that listeners can click to listen to an article. Our onsite player enriches the visitor experience and improves website accessibility.
Try for Free
Why choose AudioHarvest?
Reach and engage your customers wherever and whenever they listen to audio content.
Engage
Leverage the power of audio to truly engage your customers. Our Branded Podcasts enable clients to communicate in depth content in an engaging and easy to access way for their customers.
Reach
New and existing customers on iTunes, Spotify, Google Play, Amazon, etc. We ensure your content is found by relevant audiences across these major podcast distribution platforms that have significant reach and provide high-quality environments.
Sales
Insert audio promotional messages at the end of branded podcast episodes. Our technology enables you to insert promotional messages at the end of your podcast quickly and easily so that you can direct users through to a relevant service or offer.
Targeting
Establish loyal customers when they become subscribers to the client's brand podcast. Users simply click on a button to become subscribers to a client's podcast and they are then discretely informed every time a client releases a new podcast episode.
Testimonials
'AudioHarvest's real-time platform has now created and distributed a branded podcast for Hewlett Packard Enterprise Storage Media business group. The AudioHarvest platform automatically converted HPE Tapetember insightful articles around data protection into a branded podcast released on iTunes, Spotify, and Google'
Hear the latest from our clients
Girls Into Coding
The London Vermouth Company
Logosnet
Livingstone Group
Bizlaw UK
Mary's Meals
Thanks for your enquiry!
Thanks for submitting your enquiry, a member of our team will respond to you shortly.
Home