Blog
The best podcast hosting providers 2021
Introduction
Finding the best podcast hosting service depends on your individual needs. The core differentiators are how experienced you are and the level of sophistication you require from the service. Linked to this are key factors such as price, scalability, and the ability to distribute the podcasts. We have looked to review the major podcast providers in market and to assess providers that suit the needs of different of types of users in market. We hope that you find at least one service that suits your specific needs.
Soundcloud
Soundclouds free plan gives a good starting point for beginners who want to test the medium whilst limiting costs.
Their service offers 3 hours of free uploads. The paid plans come with more storage, bandwidth, advanced statistics, monetization, and distribution options. Their service is easy to use but not the most flexible or customizable podcast hosting plan for users looking for a more advanced serviced.

Pricing: Free plan with 3 hours of upload limit. Paid plans start at $6 per month.

Transistor
Transistor is a sophisticated yet easy to use podcast hosting service that is aimed more at professionals and business users. They provide unlimited podcast hosting plans which means they don't charge you for hours of upload as some other hosts do. However, their plans do limit the number of downloads.
Transistor make it very simple to upload your podcast media and publish it. They offer podcast analytics, so you can see how each episode performed.
Their embed code function allows you to easily add each episode to your WordPress posts and pages.
Pricing: Starting from $19 per month for upto 10,000 downloads each month. To find out more go to, https://transistor.fm/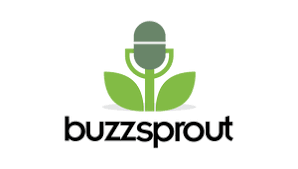 Buzzsprout
Buzzsprout is one of the easiest to use podcast hosting providers. If you are just getting started, then you'll find it to be incredibly easy to use. Just upload your media file and the system automatically takes care of the rest which is great for beginners.
Buzzsprout also automatically submits episodes to all the top podcast directories which ensures that a podcast is available on all devices and apps.
Their embeddable podcast player looks good and works well on all screen sizes.
They also offer a free WordPress plugin which makes embeds even easier.
If you don't want to make a website, then Buzzsprout can make one for you. You can customize its design and use your own custom domain name.
The main downside is that even their paid plans have storage and bandwidth limits.
Pricing: Limited free plan for 90 days. Paid plans start at $12 / month for 3 hours upload. To find out more go to http://www.buzzsprout.com
Libsyn
Libsyn was created by podcasters for other podcasters and has a large community of users including some very influential podcasters. It is a reliable podcast hosting service provider tailored more towards the podcast enthusiast. They also help promote your podcast across different platforms, apps, and devices.
Libsyn offers podcast hosting plans with different storage limits each month but with unlimited bandwidth. They also offer monetization options, detailed analytics, and a WordPress integration.
Pricing: Starting starts $5 per month with 50 MB monthly storage. To find out more go to, https://www.libsyn.com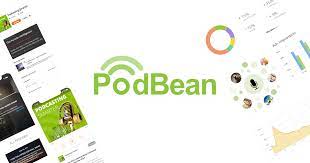 PodBean
Podbean is the most robust and scalable podcast hosting service provider on the market. If you are looking to both promote and monetise your podcast then Podbean is the platform most suited to doing this.
They offer unlimited podcast hosting plans with unlimited bandwidth.
You can also easily embed the Podbean podcast player directly into your WordPress posts and pages.
From a marketing and advertising point of view, they also have podcast promotion tools that automatically submit your episodes to all the top podcast directories. This allows your audience to use their preferred tools to listen to and download podcasts.
Podbean also offers an advertising marketplace that provides opportunities for podcasters to monetize their content.

Pricing: Free Plan but with limited storage, paid plans starting from $9 / month with unlimited storage. To find out more go to, http://www.podbean.com
Conclusion
Each of the providers has different qualities so you can select the service that suits your particular needs. If you are a beginner then we would recommend Buzzsprout but if you are a more advanced user then we would recommend something like Transistor. Overall the most robust and scalable platform in market is Podbean. The key is to establish what your core needs are and then select the service that best addresses those needs.
Also if you would like to find out how to host and distribute a podcast then just read our article on this here
More from our blog
Blog
What Is Voice Cloning?
Blog
How to create a company podcast
Blog
What Is Podcast Distribution?
Read more