Blog
Key 2021 Podcast Trends

Introduction
Podcasting is now a mature marketplace. Both in terms of the size and sophistication of the audience. And the range of different types of providers. This ensures a great user experience and a commercially viable marketplace. A key theme of the 2021 trends is that the podcast medium is now being treated and behaving like a mature marketplace. Whilst also continuing its rapid and significant growth both in terms of listenership and monetisation.
Significant audience volumes globally
The total audience is projected to be at the 1 billion mark. With over 885 million people already listening to podcasts in 2018! Going forward, global monthly podcast listeners are expected to grow at 20% per year between 2020 and 2023. And to reach ~1.8 billion by 2023 [1]. As you would expect the bigger global economies are at the forefront of this growth curse. With the USA for example having 55% of the population already having listened to a podcast [2].
Apple no longer uniformly dominates the podcast market
Podcasts have traditionally been associated with Apple devices. But, that is changing as new players enter the market, especially in Europe. Apple still dominates the US, but Spotify has become the primary podcast platform in Europe. In Germany and the UK, podcast listeners use Spotify (39% and 29%) as their primary podcasting source. In the US, Apple Podcasts is the dominant platform (47%).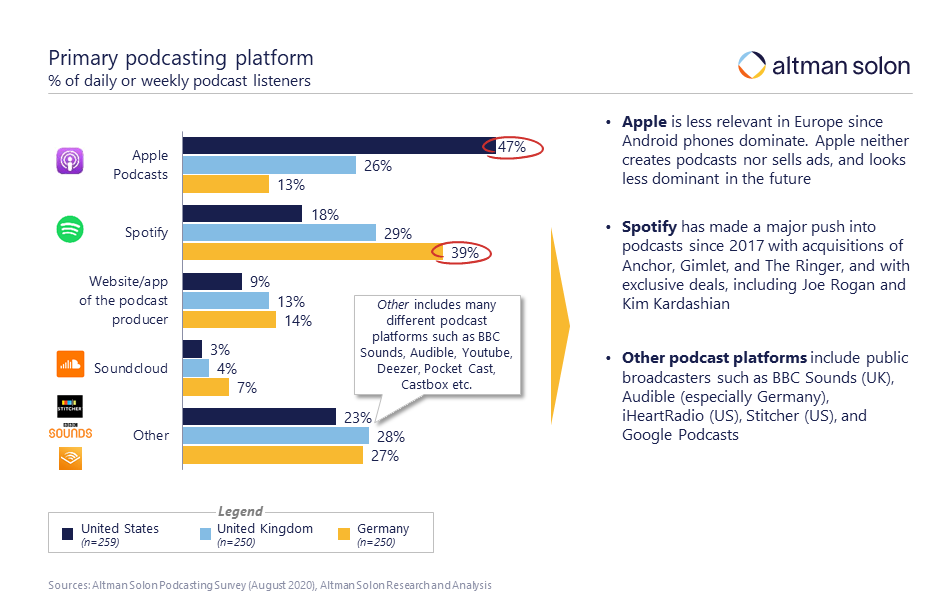 Business brands now entering the podcast space
Major businesses have become aware of the core role podcasts play in their customer's media diet. And the unique capabilities the format offers both in terms of the audio format and the long-form nature of the content. A high proportion of the major corporations now have their own dedicated podcast. So this area is set for further significant growth, as only 1% of businesses with an online presence have a podcast. The AudioHarvest platform is dedicated to helping business realise the podcast opportunity. Through its automated podcast creation and distribution service. This enables businesses to create podcast experiences and find new customers.
Significant M&A activity indicates the market is maturing
M&A activity among the major players has spiked over the last year. With companies looking to secure original and exclusive content. As well as acquire production and hosting/monetisation capabilities. Big tech companies are looking to bolster their audio presence. And access new technology to support and monetise their podcasting endeavours. Spotify has been particularly acquisitive in this area with the acquisition of shows (Joe Rogan). Commissioning of big-ticket shows (Harry & Meghan). And technology providers to support their platform (Anchor, Gimlet). Of the major players, Spotify is no means alone with Sirius acquiring Stitcher and Amazon acquiring Wondery.
Conclusion
Podcasting is now a major platform with a mature ecosystem. The key shifts are the major players bolstering their services. Business brands looking to establish their presence in this medium. As well as the continued audience growth and monetisation of the medium.
Sources
More from our blog
Blog
What Is Voice Cloning?
Blog
How to create a company podcast
Blog
What Is Podcast Distribution?
Read more